Welcome to Travel Photo Carnival, Round 4!
After receiving honourable mentions for our photo submissions in Rounds 1 and 2, we are delighted to be declared the winners of Round 3 for our 'Sunset' shot entitled 'Catching the Sun', taken on Phu Quoc Island, Vietnam.
What is the Travel Photo Carnival?
It's a brilliant way for travel bloggers to connect with each other, present and show off some of their best photography. Who doesn't love a nosey at other people's holiday snaps? We know there's a ton of great travel photos out there as we all aspire to have that 'National Geographic' epic shot in our own collection. So join in the fun and submit your favourite shot in Round 4!
Here is our winning shot from Round 3: "Sunrise or Sunset".
'Catching the Sun' – Sunset on Phu Quoc Island, Vietnam.
Here's how it works:
Each round a new theme is chosen and presented for travel bloggers to submit their best/favourite photo for that topic. The host of the contest (TrekSnappy this round) will then select a winner from all the submissions. Once a winner has been crowned, the Travel Photo Carnival will move to the winner's site to host and pick their own theme for the next round.
We are now in the privileged position of being able to host Round 4 here on our site, which after great deliberation, we have decided to name "Reflection"
Travel bloggers can submit one entry per website based on the week's theme. All submissions have one week to be submitted. At the end of that time, the host blogger will select a new winner and the winner then repeats the whole process on their website.
Previous Travel Photo Carnival Winners and previous rounds of Travel Photo Carnival hosts, themes, and winners are listed below. Clicking on the link of each hosted site will take you to the previous rounds of the Travel Photo Carnival to see all of that week's entries.
1. AfterGlobe – Flora
(link http://afterglobe.net/introducing-travel-photo-carnival/)

2. Calculated Traveller – Sand and Stone
(link http://www.calculatedtraveller.com/blog/travel-photo-carnival-round-2/)

3. Outside the Limits – Sunrise or Sunset
(link http://www.outsidethelimits.com/2013/07/travel-photo-carnival-round-3.html)
This week's theme: Reflection
This week's theme is open to interpretation – mirrors, lights, water – all are great for turning something simple into something stunning! 'Reflection shots' are one of our all time favourites – whether it be night time reflections of city scapes, mountains reflecting in calm waters, or simply a window reflecting a street scene. There are so many opportunities for reflection – it just takes an eye and a bit of thought about the angle for that perfect reflection shot. So connect with other travel bloggers and show off your stuff!
These are a selection of our favourite 'Reflection' shots from our 16 month RTW trip. Enjoy!
'Time for a Singapore Sling!' Singapore Skyline – Reflection at Night.
'The shores of Lake Michigan' – Reflections of Chicago, USA.
'Karst Mountains Reflect on Calm Waters' – Yulong River, Yangshuo, China.
'In the Midst' – Valley Reflection – Rilong, China.
Here are the entries for Round 4!
From Ed (The Polar Route)
'Baikal Reflections' – Cold blue ice on a very frozen Lake Baikal, Russia.
'Stained Glass Windows' – La Sagrada Familia, Barcelona.
From Marielle (Blazing Speed of Light Machines)
Walking along the Yanggongdi, at West Lake, Hangzhou, China.
From Jacomijn (Jacomijn's Travel Blog)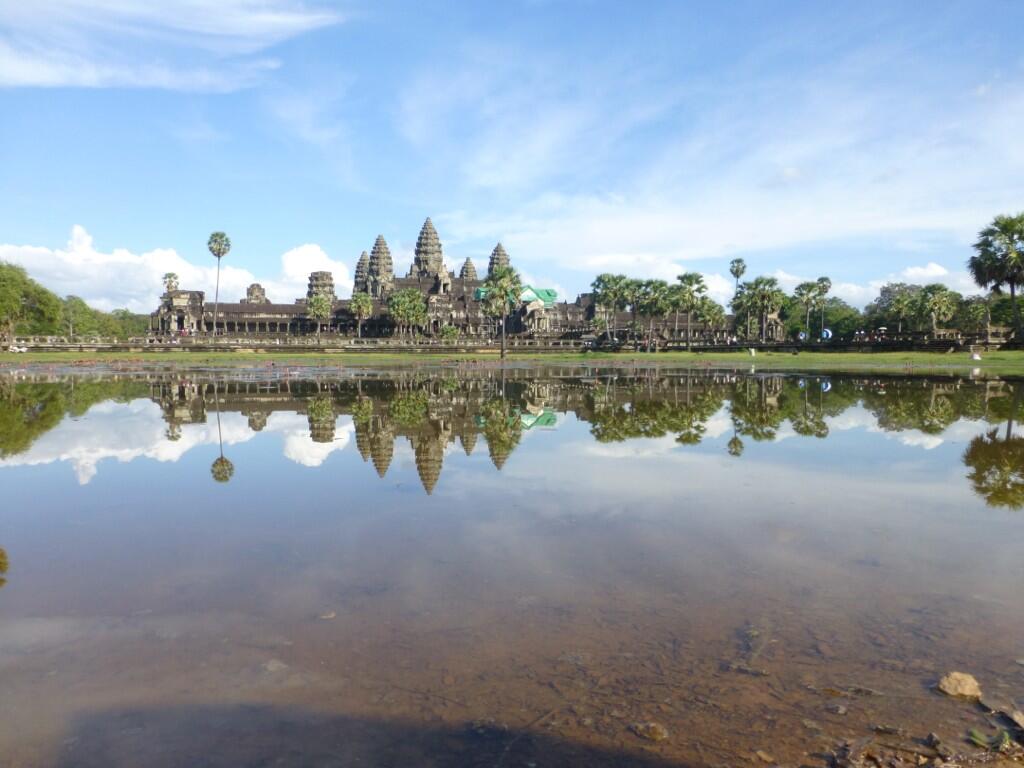 'Angkor Wat' Reflections, Cambodia.
A Few Guidelines for the Travel Photo Carnival:
1) Submissions MUST be submitted by travel bloggers with ACTIVE sites.
2) Only one submission per website.
3) The photo MUST be taken by the submitter.
4) No majorly photoshopped images. Minor edits are alright, but we want to see your original work.
5) Let's keep these submissions clean for all ages to be able to enjoy.
6) All submissions need to be medium sized. Preferred size is 600 x 400.
7) In order to enter, you MUST be able to host the next round.
8) Entries will only be taken per the guidelines below. No emailed submissions will be accepted.
How to Enter:
All you have to do is leave a comment below with a link to the image that you would like to submit. In the comment, tell us about your image and why it's your favorite. When the comment and photo has been received, they will be added to this article.
Once your image is submitted, share about the Travel Photo Carnival with others. Post it on your Facebook and tweet it out with the hashtag #travelphotocarnival. That way more travellers will get the chance to participate, as well as giving you the chance to share your photography with even more people.
Example Tweet: I just entered my best reflection photo in the #travelphotocarnival. Share yours too http://www.treksnappy.com/2013/07/travel-photo-carnival-round-4-reflection.html#more
Make sure to check back during the week to see the entries and engage with the competitors in the comments below. We'd love to hear what you think of all the photos that have been submitted.
This carnival runs for one week, Monday July 15th through Monday, July 22nd, 2013. The crowned winner will be announced a few days after submissions have been closed with the carnival being passed on to the winner to host the 5th round. All Travel Photo Carnival winners/hosts will be listed on each round along with a direct link to their article.
We can't wait to see what everyone submits as their entry! Don't forget to share the Travel Photo Carnival with others and include the hashtag #travelphotocarnival.
Fellow Travel Bloggers – What will you be submitting?
All photos entered into the Travel Photo Carnival are property of their owners.
THIS COMPETITION IS NOW CLOSED.
AND THE WINNER IS…
Thank you to everyone that took the time to enter their favourite 'reflection' shot from their travels.
We have decided to declare Ed Graham's 'Baikal Reflections' as the winning photograph for Round 4! Congratulations Ed! It is a fantastic shot with beautiful colour and depth.
As the Travel Photo Carnival Winner of Round 4, Ed will be hosting Round 5, so follow his website The Polar Route to see what theme he chooses for your next chance to enter.